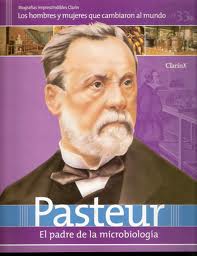 This section provides information about Louis Pasteur for kids. The life of Louis Pasteur is one that kids will find interesting and inspiring. The work of Pasteur is complex and the rigorous science that led to his discoveries can be overwhelming for a younger audience; much of it beyond the learning capability of younger kids. However, the valuable resources on this page are designed to present some of the basic ideas and discoveries of Louis Pasteur in a way that kids can understand. Help your kids learn about the life and work of Louis Pasteur in a fun and intriguing way with videos, activity books, experiments and more!
Louis Pasteur was from France and became a famous chemist and microbiologist who proved that germs were the cause of many diseases. Kids will learn how Pasteur developed many brilliant experiments and invented ways to kill or avoid these harmful germs in food and drink products such as milk. Pasteur created effective vaccines that helped create a natural immunity to disease and prevented people from getting sick and dying. One of Pasteur's greatest works was the vaccine for rabies. He developed similar vaccines for anthrax and chicken cholera. Pasteur also contributed greatly to the agricultural economy of France by reducing animal sickness and even saved the French silk industry! Louis Pasteur died in 1895 as a national hero and was buried first at Notre Dame Cathedral and later in a crypt beneath the Pasteur Institute in Paris.
Louis Pasteur: Animated Hero Classics (Video)
This 30 minute DVD captures the child's attention in a fun and easy to understand way in an animated cartoon format that kids love. At the same time, the video teaches kids about the life and discoveries of Louis Pasteur. As the French scientist sets out to solve some of the greatest scientific questions of his time, he struggles with his own limitations, confronts the doubts and criticism of the scientific community and ultimately triumphs in his scientific adventure. His strenuous collaboration with his colleagues and the tragedy he suffers in his family teach kids how to build character and fight through difficult times. This video will also teach kids the important lessons of hard work, sacrifice, diligence and other positive character traits through the strong and loving personality of Louis Pasteur. This video is available on Amazon.com or the Nest Family animated video collection.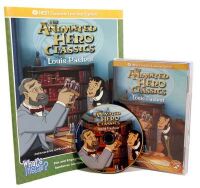 Each Interactive Louis Pasteur DVD features:
All features offered in English and Spanish
English and Spanish movie and subtitles and audio dialog
Have fun learning history and character with 3-Level Interactive Quiz
Louis Pasteur: Animated Hero Classics (Activity Book)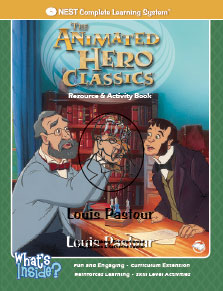 This book is for educational purposes only and should not be sold or used for commercial purposes. The activity book is full of wonderful learning activities for kids. The activities in this book are designed in three levels of difficulty (Easy, Intermediate and Advanced). Using the life and work of Louis Pasteur as a guide, this activity book covers all the basic learning areas for kids:
Art
Character Development
Culture
Geography
History
Language Arts
Math
Music
Problem Solving
Science
Spelling
Video Awareness
Writing
The activity book covers many of the life works of Louis Pasteur including a section titled, "What Did He Do?" Kids will enjoy learning about Louis Pasteur with puzzles, coloring, poetry, Dot-to-Dot puzzles, matching games, crossword puzzles, scramble words, and can test their knowledge with a True or False and Questions section at the end. Best of all, this activity book is FREE!